Repertoire Rebellion Photos View Trailer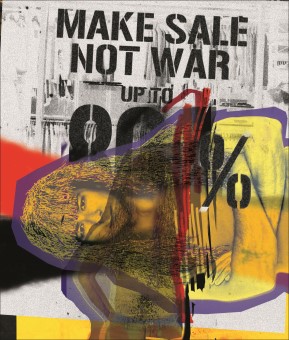 Rebellion



adapted from "Die Hamletmaschine" (Hamletmachine) by Heiner Mueller
Cooperation between [nain] - coLaborativ Leipzig and chekh-OFF players Berlin

"We pondered what contemporary relevant inspiration we could use and we found out, there was only Hamlet." (Heiner Mueller, March 23rd, 1990)

View Trailer

In 1989, the people on the streets shouted: We are the people. It says: "My drama, if it could yet take place, would happen in the Time of the Rebellion."1 in Heiner Mueller's "Hamletmachine". The Hamletmachine was produced by Heiner Mueller himself back in 1990 and promoted as the last performance of a desintegrating state. Four years later, one year before his death, Heiner Mueller asks in his poem "Ajax zum Beispiel" (Ajax for Instance), what was left after the old struggle. Monopolization instead of unification, streamlined consensus instead of contradiction? From his hotel room in Berlin looking at the Europa-Center he reads: "BILD (a German boulevard newspaper) is fighting for them". And since 2013 there are people on the streets again shouting "We are the people!".

Using Heiner Mueller's texts and interviews with citizens of Leipzig who took and still take to the streets, director Beatrice Scharmann (Winner of the IKARUS-award 2007, check-OFF players Berlin) and actor Soheil Boroumand ([nain] - coLaborativ) ask what happened, what still happens and what will happen to the concept of rebellion. Hope for an utopia or fear of change?

Neues Schauspiel Leipzig
Premiere: February 12th 2016, 8pm
Following dates: February 13th, 14th, 19th, March 13th, 8pm

Theater Acud Berlin
Premiere: February 26th 2016, 8pm
Following dates: February 27th, 28th and (scheduled) April 8th, 9th, 10th, 8pm

Greizer Theaterherbst
Vogtlandhalle, Studiobuehne
September 18th 2016, 6pm

Projekttheater Dresden
Luisenstrasse 47, 01099 Dresden
November 2nd, 3rd 2016, 8pm
Tickets: +49 351 / 810 76 00

Cast: Soheil Boroumand
Director: Beatrice Scharmann
Set design: Roy Spahn
Video: Judith Meister/Maryvonne Riedelsheimer
Dramatic composition: Michael Isenberg
Graphic design: Livia von Seld

With the friendly assistance of:

Forum Förderverein Kreuzberg e.V.